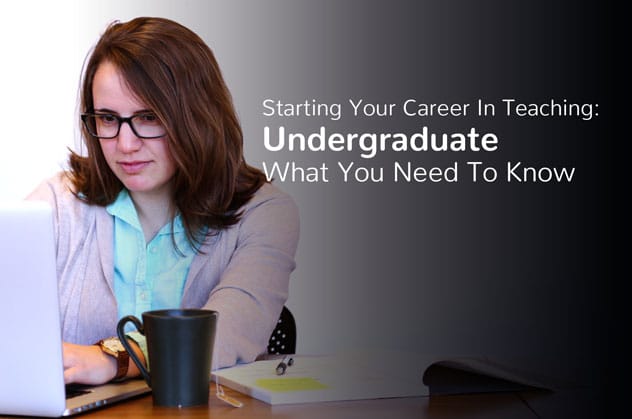 Starting Your Career In Teaching: Undergraduate Training – What You Need To Know
If you're certain a career as a teacher  is for you and you want to dedicate yourself to up to 4 years (in some cases) to teacher training, classroom experience and gaining knowledge in your chosen subject, then completing a teaching undergraduate course maybe right for you.
There are some academic requirements that you'll have to meet. You may need 2-3 A-Levels depending on which university you are looking to apply to. You will have to have GCSEs (or equivalent) grade C or above in English and Maths. If your aim is to teach primary you will need grade C in Science. You will also need to pass a skills test in numeracy and literacy.
It is also encouraged that you get as much experience as you can in a school. This will help you develop up an understanding of day-to-day school life, grow your network and finally to see if teaching is definitely the right choice for you. Contacting your local schools and asking if you could volunteer would be a wise move.
Undergraduate Training
If you're sure a career in teaching is for you, then you can gain a degree at a university and complete your teacher training at the same time and achieve Qualified Teacher Status (QTS). There are two types of degrees:
Bachelor of Education (BEd) degree is structured for you to focus on teaching, learning and related academic principles.
Bachelor of Arts (BA) and Bachelor of Science (BSc) degrees with QTS is aimed at giving you more in depth knowledge of your chosen subject, empowering you to be able to pass on that knowledge in the classroom.
Both courses offer ample time to learn practical classroom skills aided by experienced teachers, equipping you to start your first teaching job once you've graduated.
Duration: 3-4 years depending on number and length of school placements. If you have undergraduate credits from pervious studies some many take 2 years.
Funding: Full-time undergraduate teacher training course fees are currently £9,000 per year. Undergraduate trainees on courses in maths and physics that lead to QTS can apply for a £9,000 bursary. More information on funding and student loans is available at Funding for undergraduate teacher training.
Those of you who want to do a full maths or physics degree and wish to train as a teacher afterwards, may be eligible for the Future Teaching Scholars programme which offers a grant of £15,000.
Do you know of anyone who's looking to become a teacher via the undergraduate route?
Is teaching your dream job?


Have you got into teaching by completing an undergraduate course?